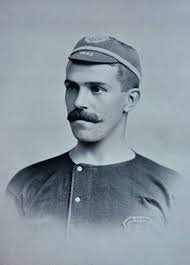 The area around Glencairn Square in the Scottish town of Kilmarnock is nowadays mostly given over to a modern retail park which bears the same name. In the 1880s, however, it was surrounded by rows of tenement-style housing that sheltered this working-class community – many of whom were employed at nearby G & SWR Locomotive Works – from the elements. Living in Glencairn Square at that time was Alexander Dick and he would, unwittingly, form a close connection between this community and Everton Football Club.
Always known as Sandy, he began playing 'fitba' in Kilmarnock before joining the Merseyside club in 1886 where his uncompromising style of play quickly made him popular with the home crowd. Lodgings were found for him on Thirlmere Road, in new property owned by the club President John Houlding, .
Sandy was content here until February 1887 when reports began to circulate that due to an attack of neuralgia, he had been given permission to return home in order to recover. He arrived back in Liverpool four weeks later, accompanied by a young neighbour who had agreed to try his luck with Everton.
John Kitey McPherson was born, 19 June 1868, at Grange Street in Kilmarnock. His father, James, was a blacksmith while his mother's name was Christina. She had become a widow when the 1881 census was taken and it found her living in Glencairn Square with her three sons. John was working as an engine fitter when he began playing football for Kilmarnock where he was noticed by the representatives of the County FA.
On 7 February 1885, he represented Ayrshire, along with Sandy Dick, as they were beaten 5-2 by Lancashire at the home of Preston North End, Deepdale. Three weeks later John McPherson was in the Kilmarnock side that beat Hurlford to win the Ayrshire Cup. The next season he again played for Ayrshire, 5 February 1887, and scored twice in a 5-3 win over Forfarshire at the East Dock Street ground in Dundee before heading for Liverpool. On 8 April 1887, he turned out for Everton against the current FA Cup holders, Aston Villa.
The first visit to Liverpool by the powerful Midland outfit produced a record crowd – estimated at around 8,000 – to Anfield. John McPherson took his place in the half-back line along with Andy Gibson and Rob Stevenson who were also from Kilmarnock. Sandy Dick, along with guest player Archie Goodall, completed the list of home players who hailed from the Ayrshire town. The game ended in 2-2 draw.
John McPherson played another ten games for Everton before returning to his home in Kilmarnock. On 2 September 1887, McPherson represented Cowlairs in a first round Scottish FA tie against Third Lanark at Cathkin Park. They won the game 2-1. He then returned to Liverpool where he played for Everton, on 11 September, in a 1-0 victory over Darwen at Anfield and again, the following Saturday, in a 2-2 draw away at Church. Third Lanark, meanwhile, had entered a protest against the Cowlairs club and McPherson was summoned back to Glasgow on 14 September to face a Scottish FA board of inquiry.

The Cathkin Park club had accused their opponents of fielding four ineligible players who, having played the previous season in England, had not been reinstated as amateurs with the Scottish FA. During the proceeding a letter was produced from Alex Nesbit, the Everton secretary, detailing that McPherson had made six appearances for the club since the beginning of the previous May, while maintaining his amateur status. This was accepted by the board and McPherson, along with two other players, was acquitted. However the fourth man, a certain Colin Calderwood, was found guilty of accepting money from Bootle FC and banned from playing football for two seasons. The Scottish FA then ordered the tie to be re-played at Cathkin Park where Cowlairs, with McPherson again in the side, won 4-1.
Whether this encounter had any effect on the Kilmarnock man is unclear but he never returned to Liverpool, deciding instead to play his football in Scotland. It is also possible that the North British Railway Company found him a suitable position in their Cowlairs works. What is certain however, is that Everton had missed the opportunity of acquiring the services of a man who would develop in to an excellent football player.
On 10 March 1888, he won his first international cap when he represented Scotland in a 5-0 win over Ireland at Easter Road. Also in the Scottish team were Andrew Hannah and Alex Latta. McPherson is listed on official records as representing Kilmarnock, not Cowlairs. Contemporary newspaper reports listed McPherson as being a player with both Kilmarnock and Cowlairs, the latter being formed by workers at the North British Railway Company Works in the Springburn area of Glasgow. Nevertheless, he won another three caps as a Cowlairs player before joining Rangers in April 1890. His first match was against an Everton side that now contained Andrew Hannah and Alex Latta.
The Merseyside outfit were in Glasgow on an end-of-season tour and their visit drew a fair crowd to Ibrox. The game took place on 19 April 1890. McPherson managed to get on the score sheet but a late collapse saw his side convincingly beaten by six goals to two.
The following season saw the inauguration of the Scottish Football League and John McPherson played a leading role as Rangers tied for the championship with Dumbarton. On the night the 1891 census was taken, he was to be found at the home of the Brown family in Kilmarnock. Later that month, on 16 April, he married Margaret Brown at the Odd Fellows Hall in Kilmarnock and settled at 40 Craigton Road, Glasgow where they spent the rest of their days.
John McPherson went on to have a very successful career with Rangers and captained the side. He was capped nine times for his country – one of these appearances being against England at Goodison Park – and won the Scottish Cup three times. The Ayrshire man played 218 games for the Ibrox club, scoring 121 goals, and gained five championship winners medals.
By the time of the 1891 census three children had been added to the McPherson family, while the head of the household declared himself to earning a living as an engine fitter. He played his last game for Rangers as goalkeeper in January 1902 and retired from the game.
In 1907 John McPherson became a director of Rangers Football Club and maintained a close connection with them until his death. This occurred on 31 July 1926 while watching a sports event at the home of Clyde Football Club. There was a large crowd lining the route when his body was transported from his home to its last resting place at Craigton Cemetery in Glasgow.